Physical Education
Key Stage 3 Curriculum
We aim to provide a holistic approach to PE for all students to enjoy at every level. Lessons are designed to develop a life long love of physical education. Students enjoy a range of sports throughout key stage 3: Football, Netball, Rugby, Hockey, Basketball, Indoor Athletics, Badminton, Orienteering, Dance, Cross Country, Fitness, Aerobics, Rounders, Cricket, Tennis and Athletics. Each unit of work delivers lessons on the five BGN Olympic rings: Performer, Leader, Education, Healthy Body and Healthy Mind. Students are assessed in each of the rings allowing them to succeed and grow within the range of aspects that make up physical education. Students develop as a person throughout each lesson not purely improving practical skills, with the well-being of the student being at the centre of everything we do.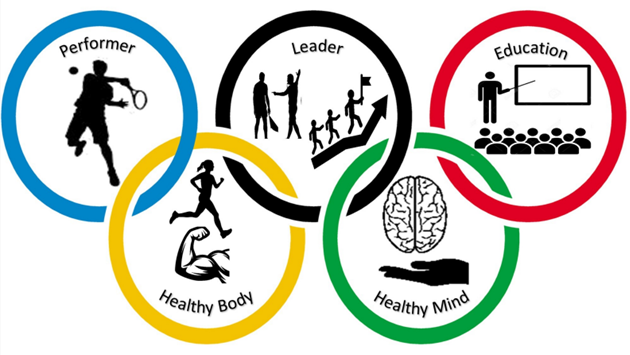 Learning activities are designed around the learning question focus, discussed throughout the lesson and in the plenary. Activities range from drills to TGFU for the purposes of learning, enjoyment and increasing activity level. Most students in the class participate in a physical way whereas the odd student may be injured and fulfils a leadership or evaluative role, still actively involved in learning and discussions.
All students are made to feel comfortable to experiment and grow in a practical setting, with regular individual and class verbal feedback from the teacher as to how to improve. As well as formative assessment key stage 3 core PE receive a summative assessment each term outlining their progress against the Olympic rings. Students then set individual targets to improve.
Key Stage 4 Curriculum
When students reach year 10 we continue to develop their life long love of physical education by using sport to develop life skills and promote participation. Students take ownership of their curriculum and plan out their year of sports based on the activities that they believe are best suited to them. Life skills are then taught through these sports in each lesson to help prepare them for the wider world as they become young adults.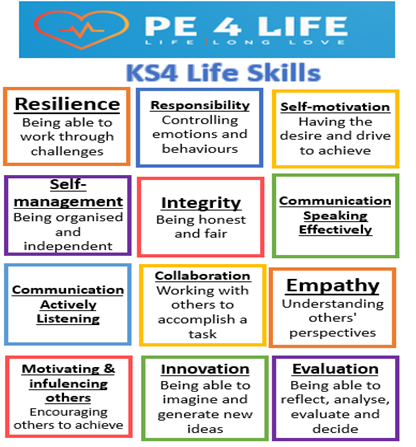 GCSE PE- Exam board Edexcel
All students have the opportunity to pursue examination PE in key stage 4. Timetabled lessons are split between the theoretical and practical element to meet the course requirements. Learning does not stop outside of the classroom door. Student are expected at extra curricular clubs to excel in a range of sports that will be assessed as part of their GCSE. Work is set to be completed at home to prepare for the lesson or to consolidate learning to ensure understanding can be challenged within the lesson time.
Assessment at a glance:
PAPER 1: Fitness and Body Systems. Written exam (1 hour 45 minutes) worth 36% of GCSE.
• Applied anatomy and physiology
• Movement analysis
• Physical training
PAPER 2: Health and Performance. Written exam (1 hour 15 minutes) worth 24% of GCSE.
• Sports psychology
• Socio-cultural influences
• Health, fitness and well-being
NON EXAM ASSESSMENT
Practical performance in physical activity and sport. Internal assessment (external moderation) worth 40% of GCSE.
• Students are assessed as a player/performer in three different activities (team, individual and a third from either team or Individual) (30% of grade)
• Plus written analysis and evaluation of performance (10% of grade)
A level PE- Exam board OCR
Key stage 5 PE offers a gateway into PE on an even more academic level, stimulating interest in possible carers pathways with great cross curricular links with Biology, Physics and Psychology.
Assessment is at the end of Year 13 and consists of three written exams and an assessment of performance in PE. Theoretical aspects represent 70% of the final marks with 30% available for practical performance and analysis.
Studying A Level Physical Education will give you a fantastic insight into the amazing world of sports performance. Not only will you have the chance to perform or coach a sport through the non-exam assessment component, but you will also develop a wide range of knowledge into the how and why of physical activity and sport.
The course is broken down into 4 components
Anatomy and Physiology, including Biomechanics (30%)
Skill Acquisition and Sport Psychology (20%)
Sport, Society and Contemporary Issues (20%)
Practical Performance and Analysis (30%)
Extra Curricular
Students have multiple opportunities to attend extra curricular activities at lunchtime and after school either to participate for fun or in a competitive manner. A range of activities are offered based on the season/time of year to. Attendance at extra curricular clubs is high.
Please see the extra curricular clubs section on the website for what is available each week. This can be found on the website in:
Our curriculum
Extra curricular clubs
Sports clubs